eCommerce Website Design & Development For A Marinated Meat Supplier
Sabah Roast Lamb
The Finest Roast Lamb & Premium Cuts
Established in Sandakan, Sabah in 1996, Sabah Roast Lamb serves the most sought after and finest roast lamb, also known as "kambing golek". Sabah Roast Lamb is based in Klang Valley, serving Peninsular Malaysia with succulent and tender roast whole lamb, high-quality meat cuts or meat packs, in-house secret marinated sauce and warm catering services near or far. Sabah Roast Lamb strives to bring their customers a wide range of fresh marinated meat for families and friends to enjoy at the comfort of their homes.
Our Challenges & Goals
The collaboration between Sabah Roast Lamb and Kode Digital started when Sabah Roast Lamb reached out to us and was excited to have us build a website for their famous roast lamb. Sabah Roast Lamb wants to educate and promote the freshness of their meat, 100% pork and alcohol-free, and sourced at its finest quality from trusted abattoirs and suppliers from Australia and New Zealand. Customers can simply order online and have their meat delivered to their doorstep.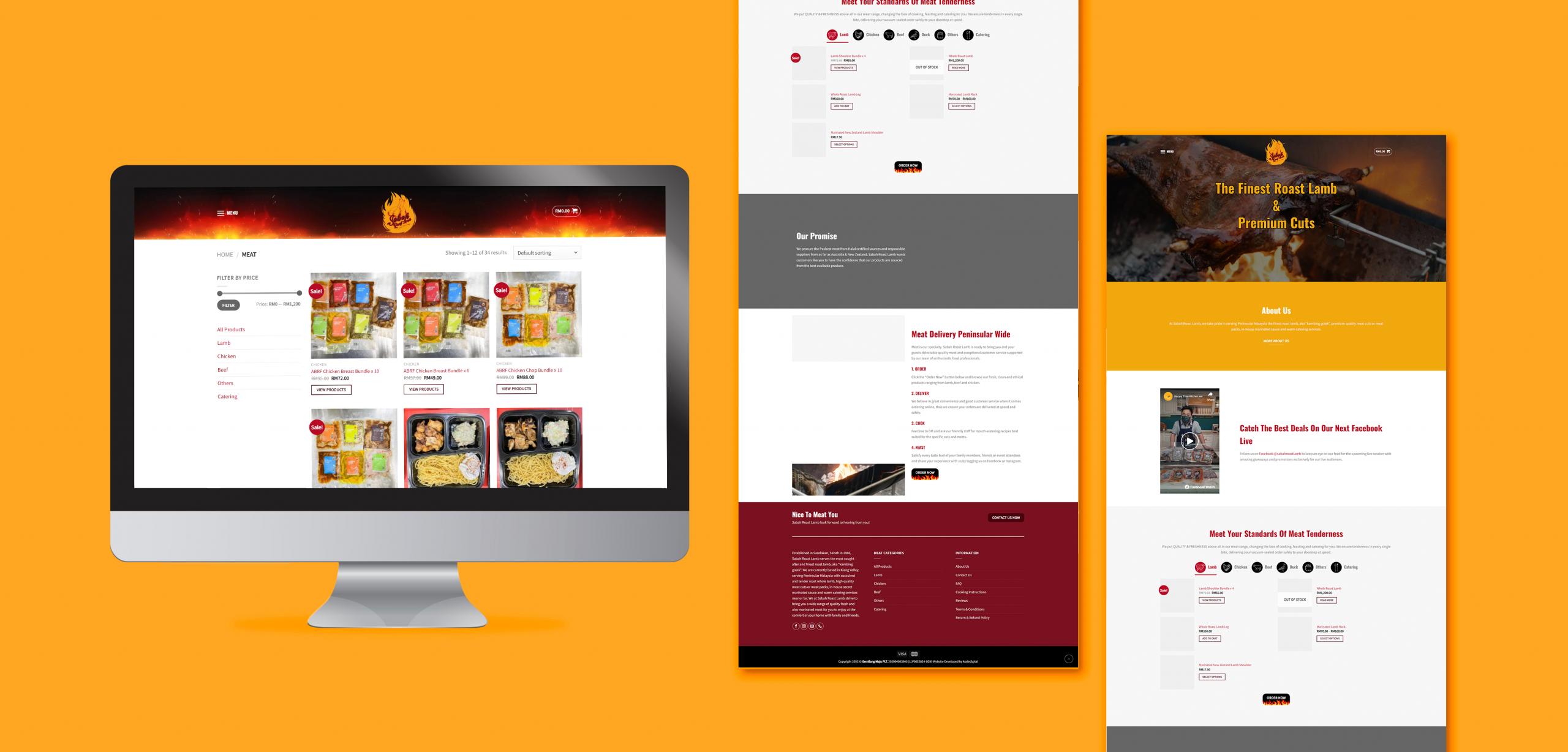 Website Design & Development
Website is known as a language for effective communication and the goodness of Sabah Roast Lambs has given us the inspiration to build Sabah Roast Lamb, an eCommerce website that is informatively straightforward and visually appealing. We have created an attractive website design that helps Sabah Roast Lamb communicate its brand credibility through its brand colours – orange and red as well as design elements that represent heat and fire. To ensure that customers can easily search for the kind of meats they love, we have segmented all meats across different web pages and created bundles for the products.
On the back-end, we have supported Sabah Roast Lamb with an integration with QuickBooks, an accounting software that will automatically assist Sabah Roast Lamb to generate invoices and emailing them to customers. Delivery coverage is based on locations, hence we have ensured that all delivery charges were based on postcodes. We have also created a coupon codes system for Sabah Roast Lamb to easily customize their coupon codes during festive promotions.
The Outcome
Kode Digital's expertise at delivering Sabah Roast Lamb's finest and premium cuts through an engaging eCommerce website has helped the brand leverage its brand across Malaysia. Today, Sabah Roast Lamb has made itself a brand in the food industry and we are proud to share that the brand has been winning a huge increase in their sales.