Social Media Marketing Strategies & Services For A Skim Milk Brand
Sunlac Skim Milk
Skim Milk Powder Formulated With New Zealand Ingredients
SUNLAC puts consumers' overall health and wellness as their top priority. They want to transform people's lives by instilling a healthy skim milk drinking habit. This less than 1% fat skim milk powder is formulated with a high level of premium yet natural calcium, protein and essential minerals. Consequently, consumers can attain their weight goals in the healthiest way whilst maintaining strong bones and muscles. It is ideal for milk drinkers from various age groups, especially those who wish to practise low-fat diets. Moreover, SUNLAC is a highly versatile and multi-functional food ingredient in cooking, baking and add-on for nutritional food or beverages.
How We Help?
Social Media Management
Website Design & Development
Our Challenges & Goals
We are partnering with SUNLAC to lend a helping hand in managing their Social Media content. They wish to drive online traffic that will convert as consumers, who will not hesitate to purchase their skim milk powder products. It is our responsibility to increase their credibility online by raising their brand awareness and audience engagement on their Social Media feeds. We involved ourselves in team meetings to thoroughly understand their vision, mission, and the selling points of their products, whilst ensuring customers will be directed to the "DailyLac" eCommerce site and browse the skim milk powder products. SUNLAC requested us to showcase the essential nutrients at a glance via the visual graphic we provided for their social media postings while ensuring the "Halal Certified" logo is visible for the target audiences.
Social Media Management 
We have experimented with some visual designs, product displays and writing tones with SUNLAC. This ensures the content connects with their target audiences effectively. In order to create a sense of trust for SUNLAC, we push educational content such as health and wellness tips to educate customers whilst sharing about the benefits of consuming skim milk daily. The visual designs for Social Media postings are delivered on the brand's energetic and vibrant personality. A carousel of milk splashes template on SUNLAC's Instagram profile makes the overall feed look more appealing and organized. Furthermore, we have inserted CTAs in social media copies that will lead online audiences to the "DailyLac" eCommerce site product catalogue with SUNLAC Skim Milk product, directing the customers to browse the products.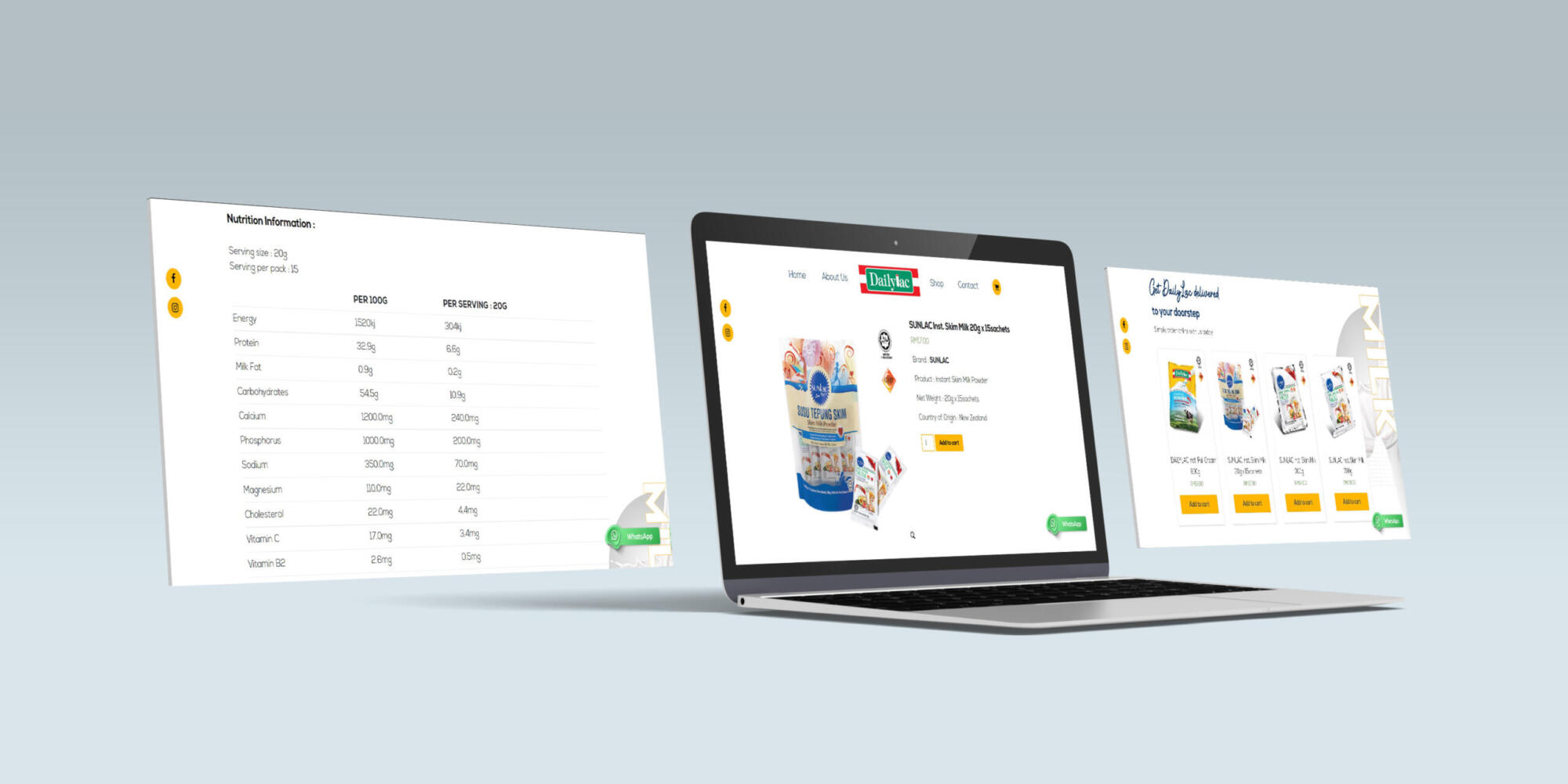 Website Design & Development 
As mentioned previously, we have inserted CTAs in SUNLAC's social media copies that will inspire online audiences to access the "DailyLac" eCommerce site and get SUNLAC Skim Milk products delivered safely to their doorsteps. From this eCommerce website, site visitors will be able to gain insights into all the ingredients and nutrition information about this skim milk powder transparently. In addition, this eCommerce site comes with a safe and secure payment gateway that will put consumers' worries at bay when purchasing products online. An array of cooking recipes with their milk powder as a versatile ingredient allows consumers to enjoy cooking healthy meals for loved ones.
The Outcome
That being the case, we successfully rolled out an agreed-upon monthly plan for SUNLAC across Facebook and Instagram with CTAs in the post copies. We explored ways in which the energetic side of the brand's personality could be used across their social media posts related to their skim milk products, with the help of healthcare tips and added value calls-to-action, in order to positively impact the audience's experience online, and successfully convert them into loyal consumers.