In today's modern marketplace in making smarter purchasing decisions, do you still walk into stores, compare your products, and then purchase them? Instead, if you're browsing the net for information to help you make smarter purchasing decisions, you're a part of the vast majority – 87% shoppers begin product searches online (Retail Dive, 2018). If online is your go to, it is most likely that your potential prospect would too, wouldn't they? No matter which marketplace your potential prospects lands on and discovers your products or services, you would want to traffic them back to your website.
#1
First thing first, how well do you know about the importance of having a website for your business?
A website is the backbone of the online presence of your business and the ultimate goal of your website is to answer your potential prospects with the information you have on your site. Your website is available 24/7 and with this, your potential prospects may conveniently visit your site anytime to learn about your products or services. On the other hand of having a website, you can easily achieve various marketing strategies, earn more sales, and successfully grow your business by advertising them all around the web through Pay per click ads or social networking sites.
#2
A quick question, would you consider a business with an unprofessional website design, a site that doesn't include testimonials or an unclear idea of who they are and their products or services?
Well, you wouldn't, that's because they don't sound professional and credible isn't it? As a result, we couldn't stress more than having a good website to create a great first impression of your business. But what makes a good website? Here are 7 essential elements of a good business website for you to successfully attract potential prospects and convert them into sales.
#3
7 Essential Elements Of A Good Business Website
1. Who are you? What do you do? What makes your business different?
As we've mentioned that the information on your site are the answers for your potential prospects. It's an opportunity for your potential prospects to get to know and consider your business. They are definitely evaluating about trusting you. So, make the best first impression on your 'About Us' page.
Avoid bragging and being pushy. Be straightforward about:
Who are you?
How long have you been in business?
What are your products/services?
What makes your products/ services different from the others?
What are the core values of your business?
Do you have numbers of satisfied customers worldwide?
2. Responsive web design
With today's advanced technology of individuals on smartphones and tablets, you're at a disservice if your website isn't designed to respond to fit all screen resolutions. A responsive web design can positively impact user experience, increase mobile traffic, Search Engine Optimization (SEO), and conversion rates. An adjustable screen size provides your page visitors a great user experience and hence, allow them to spend more time on your site, and build trust for a higher conversion rate.
In terms of SEO, did you know that responsive web design improves search engine rank? Google has been considering responsive websites as one of the ways to rank your website in the search engine result page.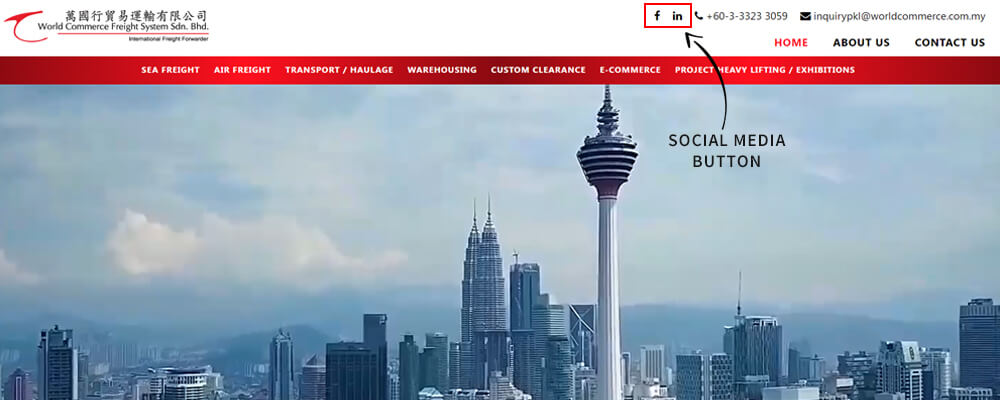 3. Social media icons & sharing buttons at the right places
Improving online presence on social media requires much effort and if you have been improving your online presence, you would have realized the hard work it takes to develop a successful presence on social media. So, why hide your social media and sharing buttons on your page where visitors could not easily see them? Add these buttons at the right places to attract new users and encourage the growth in shares.
The ideal place to add your social media buttons should be at the top half of your page where your page visitors could view the buttons without having to scroll down the page.
Social media icons will lead your visitors to your social profiles. However, you should also be adding sharing buttons on your website to encourage your visitors to promote your content. Place the sharing buttons near to your to be shared content.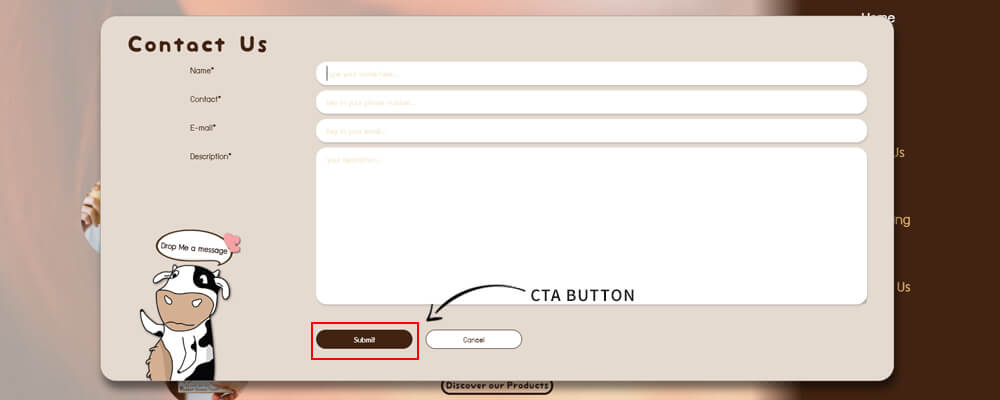 4. Contact page & Call to Action
Now that your potential prospect has viewed your content, what is next? How are you going to get them to reach out to you? Be sure to have a contact page consisting of all your contact details such as phone number, email address or/and other relevant Call To Action (CTA) buttons such as 'Shop', 'Sign Up' to your marketing campaigns.
5. Web designs & layout
The first few seconds on your website would be how your potential prospect perceives your business. So, is your web design up-to-date and appealing to attract visitors to your website? Learn about the styles and elements of web designs every year. You may integrate the new elements into your site and improve user experience.
Are you knowledgeable about the top UI/UX design trends that dominate 2020 and 2021? Some of the latest trends are immersive 3D elements, Dark Mode, a mix of photography with graphics, and bold fonts in UI/UX design. Kode Digital was actually nominated as Top 5 Web Designer in Penang, Malaysia by Trusted Malaysia.
6. Testimonials and case studies
WOW your potential prospects with the favourable comments you received from your satisfied clients by adding testimonials and case studies – showcase your detailed success stories on how your product or services has helped your customers to your site. By adding these essentials, your business would ultimately look more valuable and believable. Your potential prospects will now have more reasons to trust you.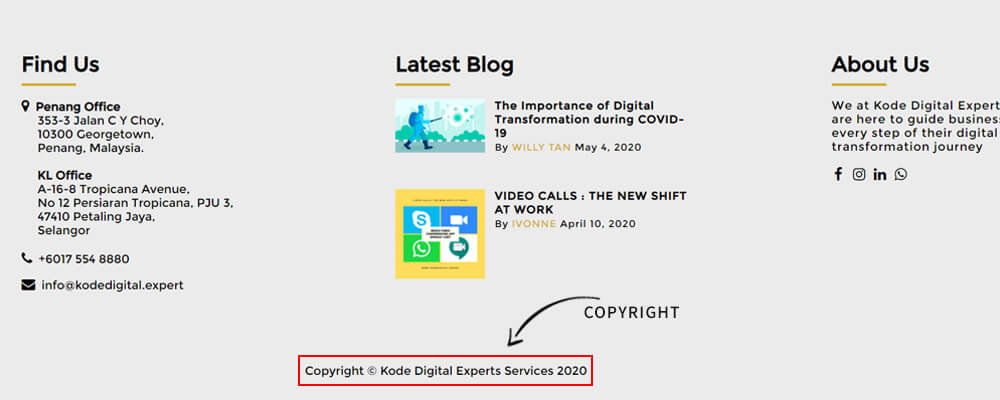 7. Updated Copyright
Do not neglect updating the copyright year located in the footer of your website. It may seem like a small issue, but an old copyright year surely does say that your company is not on top of the business game.
Be sure to update your copyright year as this little sign does show your potential prospect that your business matters and is constantly up to date.